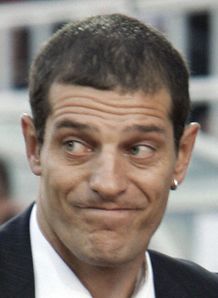 HE IS NOT WEARING ANY CLOTHES!
Yes that is the very peculiar feeling this game left me with.
But first things first. Croatia started like you would expect.
Looking quite dominant against, host nation or not, what's been widely predicted to be by far the weakest team in the competition.
FIFA world rankings are usually something very useless and should always be taken with a grain of salt, but being ranked 92 in the world and 43 in Europe, behind respectively Mozambique and Iceland, that can't be too good, can it?
Well that's exactly where Austria is ranked.
They'd need a something like a comeback from the great Toni Polster to overcome overwhelming odds like that, right?
Or how about that entire team?
The "great" Austria team of the late 80s, early 90s.
Ranked much higher than todays current crop and who actually qaulified, by winning actual matches, for international competition.
Well for starters Toni Polster is busy doing this. Saving, not austrian football
but rather austrian schlager. Or whatever the hell that is.
This is him actually singing on a tv show:
http://www.youtube.com/watch?v=o--KMfUAmFw
The guy obviously has better things to do these days than scoring goals!
And his great team?
Well they couldn't even beat this rather odd looking man!
Remember what at the time was like the greatest upset ever?
The Faroe Islands winning a game basically for the first time ever, beating "mighty" Austria 1-0
If you don't, here it is:
http://www.youtube.com/watch?v=GueLDYPe050
Check out those saves!
Like one austrian user comments: "We couldn't beat anyone after that".
That actually makes perfect sense!
"Wipes tear from eye".
No all in all it probably is a lot better just to let the current team play and hope for something extraordinary to happen in order to beat those brutal odds.
Well, enter yesterday's game.
Like I said, Croatia started out pretty good. Recieved a rather dubious penalty and 1-0 it is.
Then what I think is something pretty extraordinary, entered the game.
First of all Austria got a make up call, or non call if you will, from the horrible referee when Pogatetz escaped an obvious second yellow card, when he more or less assaulted the very hard working Olic.
And then I thought the Croatia manager and of course not least national hero, Slaven Bilic showed extraordinary tactical incompetence, basically doing everything he could, mostly by doing nothing, to help Austria get a good result.
Who needs Toni Polster when you're facing Slaven Bilic?
What the Austrians really neeeded, like in many ways the Swiss in the opener, was of course some luck and it just wasn't to be, but Slaven Bilic, WHAT THE HELL MAN?
I think it's ok that us the fans to may not know that Austria for some reason still play 3-5-2 or 3-4-3.
but that you the manager either wasn't aware of this or did know about it only to completely fail to adjust, is just horrible and will without a doubt mean that your team won't go very far.
I just can't get over Bilic playing a midfield without any defensive midfielders.
I don't even remember when I last saw a team at high level last do this?
And no absolutely not, Niko Kovac will never be a good defensive midfielder.
Whatever strong points he still has left, and they're not all that many, are still technical ones.
It's almost like Bilic is stuck somewhere in the past and in a way that makes sense.
Croatia traditionally hasn't really had pure defensive midfielders but rather very all-round ones.
Players both strong technically and physically often with a mean streak abling them to impose themselves on a match. One way or the other. Think someone like Asanovic:
But this current midfield of Kranjcar, Modric and Niko Kovac are severely lacking in the physical department and really only one of them, Modric obviously, is up to the high technical standard of the croatian midfielders from the past.
A central midfield of Modric and Kovac just will not work. It's too weak.
It almost cost them the match against probably the worst team in the competition. What won't it do against better teams?
Maybe just maybe against typical 4-4-2 teams they'll be able to control the match but there will still be way too many holes and playing four midfielders like that against a 3-4-3 - 3-5-2 where you just get run over by midfielders, wings and in this particular case, EVEN WING-BACKS!
What was Bilic thinking or maybe he just wasn't thinking at all...
Someone like Modric, and even a Kranjcar, has to have two midfielders behind him or at least when defending make adjustments and be put on the wing.
They actually do have the hard working forwards to at least try and pull that of.
But this is like kindergarden knowledge for a coach and been done by every coach with every number 10 type of player now, for I don't even know how many years...
Is Bilic a complete idiot? Is he wearing any clothes?
Hopefully for Croatia it's just being the national hero that's gone to his head and that he underestimated Austria, and will take other teams much more seriously, because what we saw in this match from them, with this lineup, these tactics, will only lead to failure.
They will not beat Poland playing like that and obviously not a very strong looking Germany.
Following this match it's very hard to get away from thinking Bilic may very well be a disaster tactically.
And who knows, maybe he was just very lucky in the qualification to run into the only one who was actually worse?